Alexander Rae "Alec" Baldwin III (born April 3, 1958) is a Emmy award winning, American film and television actor. He has appeared in prominent films such as Beetlejuice and The Hunt for Red October, in addition to the Martin Scorsese films The Aviator and The Departed.
Mr. Conductor
Edit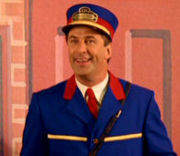 Alec Baldwin as Mr. Conductor in Thomas and the Magic Railroad.
Ad blocker interference detected!
Wikia is a free-to-use site that makes money from advertising. We have a modified experience for viewers using ad blockers

Wikia is not accessible if you've made further modifications. Remove the custom ad blocker rule(s) and the page will load as expected.