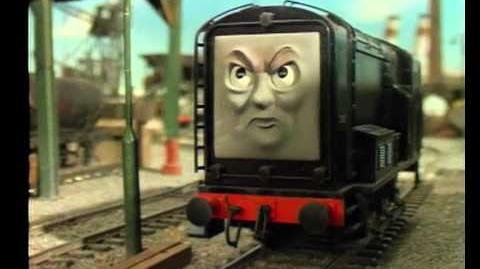 Diesel Does it Again
is the eighth episode ever made in
Season 3
.
Duck and Percy are struggling to cope with their work at Brendam, so another engine is sent to help. Unfortunately for them, Diesel is the only engine available and when the two see him, they refuse to work. The Fat Controller sends them back to work, but Diesel becomes unbearable after spilling some cargo and talking to others into not snitching. At last, Diesel carelessly pushes several trucks of china clay into the sea and is sent away for good. Duck and Percy are more than happy to put up with the extra work again, knowing they would rather put up with that than Diesel.
In one scene, Percy has Thomas' tired face mask on.
Characters
Edit
Duck
Sir Topham Hatt
Ad blocker interference detected!
Wikia is a free-to-use site that makes money from advertising. We have a modified experience for viewers using ad blockers

Wikia is not accessible if you've made further modifications. Remove the custom ad blocker rule(s) and the page will load as expected.