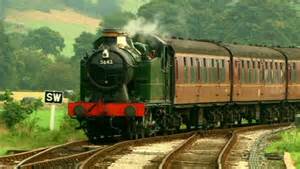 Down at the Station is a series of informative segments featured in between episodes on television in the US and on Thomas and Friends DVDs in the UK.  They feature scenes of real railways hard at work, show what passengers do during their trip, or tell what the different people who work on the railway do.  The segments were filmed at the Llangollen Railwayand the Lakeside and Haverthwaite Railway.
Morning - (Pop Goes Thomas DVD; UK)
Evening - (Muddy Matters DVD; UK)
Driver - (Birthday Express DVD; UK)
Fireman - (Up, Up, and Away DVD; UK)
The Conductor/The Guard - (Thomas in Charge! DVD;UK)
The Signalman - (Curious Cargo DVD; UK)
The Workmen
Engines - (Big Bang Surprise DVD; UK)
The Steam Engine - (The Lion of Sodor DVD; UK)
Diesel Engines (Day of the Diesels DVD; UK)
Coal - (Merry Winter Wish DVD; UK)
Water - (Misty Island Rescue DVD; UK)
Whistle - (Wobbly Wheels & Whistles DVD; UK)
Going Backwards - (Sticky Situations DVD; UK)
Engine Shed
Points - (Merry Christmas Thomas DVD; UK)
Level Crossing - (Rescue on the Rails DVD; UK)
End of the Line/The End of the Line - (Go Go Thomas! DVD; UK)
Railway Line - (Creaky Cranky DVD; UK)
Passengers - (Hero of the Rails DVD; UK)
At the end of the original "Whistle" segment, the camera on top of the engine's roof gets knocked over by a tree branch. This goof was later edited out. 
During "Fireman", a camera crane and a cameraman are seen.
When the driver first uncouples the engine in "End of the Line", the locomotive is facing away from the carriages, but in the next shot the locomotive is facing towards the carriages (its reflection is in the carriage window).
In the segment "Evening" you can see a locomotive made up to look like Thomas in a shot of the yards.
Ad blocker interference detected!
Wikia is a free-to-use site that makes money from advertising. We have a modified experience for viewers using ad blockers

Wikia is not accessible if you've made further modifications. Remove the custom ad blocker rule(s) and the page will load as expected.