Edward the Very Useful Engine - UK/Edward the Really Useful Engine - US is the twenty-third episode ever made in Season 6.
Percy is concerned when the big engines begin saying that Edward needs to be retired and when he tells the Fat Controller, Edward is sent to show Stepney around a new loop line. Duck does Edward's work, but the trucks hold him back on Gordon's Hill and not even Gordon can push them up. Edward is sent to help and, when he helps both up, no one says Edward needs retiring anymore.
Gordon was only a few minutes behind Duck. So even if Duck hat not stopped, Gordon would have either crashed into Duck or would have to slow down to follow him.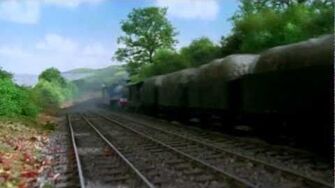 Ad blocker interference detected!
Wikia is a free-to-use site that makes money from advertising. We have a modified experience for viewers using ad blockers

Wikia is not accessible if you've made further modifications. Remove the custom ad blocker rule(s) and the page will load as expected.