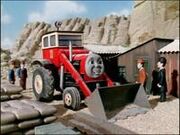 "
I'm Jack the front loader! I can load, and unload, and carry lots of things!
" — Jack.
Jack is a friendly and enthusiastic front loader, who owns a team that does work. The ream that Jack works in is some times called "Jack and the Pack." 
Appearances
Edit
Jack appeared in the seventh and twelfth season, and in Thomas' Trusty Friends"/"On Site With Thomas" and "The Great Discovery".
Ad blocker interference detected!
Wikia is a free-to-use site that makes money from advertising. We have a modified experience for viewers using ad blockers

Wikia is not accessible if you've made further modifications. Remove the custom ad blocker rule(s) and the page will load as expected.