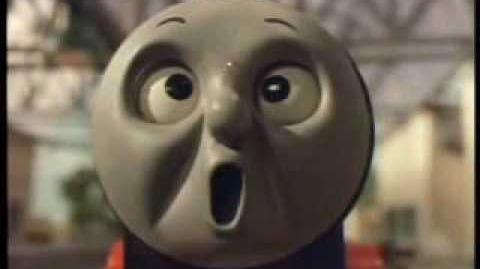 In the episode Buzz, Buzz (US - James Goes Buzz Buzz.) James burns a bee's foot when it's on his boiler. So the bee stung James on the nose for burning his foot. So they spin on the turntable, wash them off and try smoking them off by going in a long tunnel, but still the bees don't go away. So they have to go back to the vicar and get a new beehive. Then the vicar calls James the red nosed engine, but instead they call him "the bees' knees".
Studio equipment is visible when BoCo talks to Duck.
When BoCo passes Bill and Ben, one is not puffing steam.
When the bees James' driver and fireman, his top is white.
After Duck parks in the shed, there's something on James' funnel.
When Bill and Ben are shunting trucks, steam does not come by their wheels.
Ad blocker interference detected!
Wikia is a free-to-use site that makes money from advertising. We have a modified experience for viewers using ad blockers

Wikia is not accessible if you've made further modifications. Remove the custom ad blocker rule(s) and the page will load as expected.