No Sleep for Cranky is the third episode ever made in Season 6.
Cranky is kept working through the day and night. When he becomes frustrated with Salty's tales, he accidentally drops a load of pipes on the rails, knocking over a shed and trapping Salty, Bill, and Ben. Salty passes the time by telling stories to the delighted twins, but poor Cranky is unable to get any rest even when not working. When Harvey finally clears away the mess, Cranky is so relieved he is polite for once - that is, until he accidentally drops some more pipes.
When the narrator says, "...so cranky that he swung his arm around", a wire is used to swing Cranky around.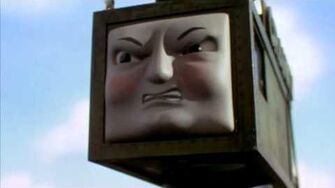 Ad blocker interference detected!
Wikia is a free-to-use site that makes money from advertising. We have a modified experience for viewers using ad blockers

Wikia is not accessible if you've made further modifications. Remove the custom ad blocker rule(s) and the page will load as expected.